Suggested by Dawson Resources, LLC


Now You Can Use the
Secret Strategies of the Wealthy to
Minimize Taxes and
Maximize Tax Deductions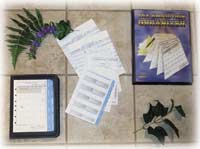 The key to maximizing your deductions and minimizing your taxes is "tracking" your expenses and knowing how to document them.

Sanford Botkin, Attorney, Certified Public Accountant, and one of only eight attorneys selected by the Internal Revenue Service to train all new attorneys to the Internal Revenue Service's Corporate Tax Division, developed the Tax Diary, one of the most effective tools available for easily tracking your expenses.


Never overlook another expense again!
For most people, tracking expenses is not only easier said than done, there are a myriad of daily expenses that get overlooked or that just slip through the cracks.

For example, did you know that you need to document not just the expense, but who it was with, where it occured and why? The Tax Diary makes it easy by providing a space to record everything that happens each day - including all the required information.

The Tax Diary is actually a full system for tracking your expenses. It's the EASY WAY to precisely track your automobile expenses, travel, entertainment, fun, etc.


Everything You Need Is Included
You get everything you need to document a full 12-months of expenses including:
Automobiles and all the related expenses
Travel - including both daily travel and out-of-town travel broken out by overnight travel and non-overnight travel
Entertainment including meals, golf, tickets, etc.
Plus a whole list of incidental and miscellaneous expenses that could easily get overlooked.
Even parking meters and pay phones are included!
And that's not all - you also get:
An easy-to-understand instruction manual with tips on things like home/golf deductions
Monthly envelopes for keeping receipts
Mileage forms for documenting mileage
A handy "to do" list, a place for "notes" AND a calendar!
A Proven System That Works
The key to the success of the Tax Diary is that these tax questions are in front of you every day. The Tax Diary has withstood almost every audit it has come up against. It is one of the most effective tax tools available today.

Best of all, you don't have to wait until January to get started. This 12-month system is designed so that you can easily start in any month. Don't miss out on documenting all those expenses. Get started today with the most effective tax tool available for legally maximizing your deductions and minimizing your taxes. Order yours today!