Special Report:
48 Ways to Put Yourself In Front of Prospects

With an emphasis on face-to-face opportunities, this Special Report includes three bonus ways for a total of 51 ways to put yourself in front of prospective clients. It's a huge variety!


(product details...)


Some are a different twist of things you've heard before, others are so rarely done that you may have forgotten about them. One or two may even make you say "Ahhaa...now THAT's an idea!"

Includes instructions and worksheet.



- Click here to BUY NOW -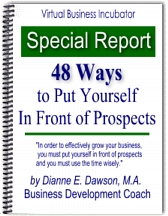 Click here for product details.