Looking for Fresh and Unique Gift Ideas for the small business owner or executive? I have assembled a selection of unusual gift ideas for the business owner or executive who enjoys something different as a gift.

Be sure to check-out the gift ideas and beautiful baskets in the right column from Amazon.com. They are sure to please those with discriminating tastes.

Handsome Tax Diary with Tips for Reducing Taxes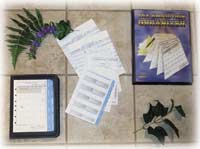 Tax Reduction Strategies for Small Business Owners
This tax diary comes in a handsome portfolio in your choice of two sizes. The key to maximizing your deductions and minimizing your taxes is "tracking" your expenses and knowing how to document them.

Learn how to maximize your deductions and minimize your taxes with this easy-to-use tax diary. Your accountant will thank you! Includes instructions and tips from former IRS Agent, CPA and Tax Attorney, Sanford Botkin. Click here to learn more...



---
Marketing Savvy for Executives and Business Owners


Here's a unique gift idea that is sure to please! Did you know that only 4% of new businesses make a sizeable profit after 5 years? Lack of marketing savvy is one of the main reasons businesses fail.

The Guerrilla Marketing Association is a unique interactive small business organization designed to support small business owners in their quest for growth and profit. Founded by Jay Levinson, the Father of Guerrilla Marketing, this organization is your "secret weapon" for success. Click here to learn more...



---
"Secrets of the Millionaire Mind" - by T. Harv Eker


It's the New York Times best-selling book that everyone is talking about: "Secrets of the Millionaire Mind" reveals the missing link between wanting success and achieving it!

Have you ever wondered why some people seem to get rich easily, while others are destined for a life of financial struggle? Is the difference found in their education, intelligence, skills, timing, work habits, contacts, luck, or their choice of jobs, businesses, or investments? The shocking answer is: None of the above! In his groundbreaking "Secrets of the Millionaire Mind", T. Harv Eker shows you in plain language the steps to Master the Inner Game of Wealth.


Two FREE Tickets - Special Offer from T. Harv Eker!
Get Two Free Tickets to attend the Millionaire Mind Intensive - a 3-day weekend event that can only be described as awesome! Learn how to re-set your financial thermostat and start accumulating the wealth you deserve.

After you click the link above you will see a picture of tickets on the web page. Click the tickets and then you will need the Reference Code 277935 to order your two free tickets.



---
The #1 Small Business Financial Software


The Easiest Way to Help Your Business Succeed. QuickBooks has a 60-Day, Money-Back Guarantee. Try QuickBooks for 60 days. If you're not satisfied, return it with dated receipt for a full refund of the purchase price. Get up and running quickly, smoothly and accurately - with FREE QuickBooks support, included for 30 days from software registration.



---


Business Book Summaries - Free One Month Trial
Downloadable summaries of over 300 business books on a wide variety of topic areas including marketing, management, leadership, sales, strategy, CEO, small business, Human Resources and more. Easy-to-read executive book summaries available in your choice of several formats including PDF, HTML, PDA, PowerPoint and Audio. Click here to learn more...



---

Marketing Mastery - 14 Special Reports on Marketing and Writing
From Marcia Yudkin, author of "Six Steps to Free Publicity" and eleven other books, comes a selection of Special Reports on marketing and writing. With topics ranging from Press Release Makeovers to sample marketing plans to writing a book, you'll find just the information that you need to get started. Click here to learn more...



---

ACT! by Sage 2007 - The #1 best-selling contact manager software.
Organize all your client information in one place. This contact and client management software is designed to assist and support you as you make contact, build relationships and get results! A great tool for managing business growth.



---
Organize Your Personal Records and Documents



Can you gather your important documents quickly in an emergency? Do your loved ones know where everything is should they need to handle your affairs when you can't?

The key to success in having your personal records and vital information organized is knowing what to gather, and having it all in one place, organized in a manner that makes it easy for your family to find just what they need for any situation.

This Personal Record Keeping System is designed to do just that! Each section is complete, simple and easy to fill-out. More important, it includes many areas you may not have thought to include - vital information you, your family or loved one will need in an emergency or when you are incapacitated and can't tell them where to look. Click here to learn more...


---

Free Trial - Netflix - DVD Rentals starting at $5.99 per month

Over 65,000 titles! Free Shipping - just select what you want to see, place your order and it arrives the next business day. When you are finished enjoying the movie (no late fees or time limits), simply return it in it's own pre-paid envelope. Netflix will send you the next movie in your que. Get up to five movies at a time. It couldn't be easier!

Try Netflix.com
today with their free trial offer - or click the "Buy/Redeem Gift Certificate" link at the top of the page to purchase a Gift Certificate.


---

~ A FREE Gift For You! ~
Give yourself the gift of 8 Free Marketing Strategy Tools - Immediate Download!

You'll love these easy-to-use tools that include my 16-page Special Report: "Private Practice Marketing 101", a Business Card Checklist, Five Strategies for Building a Successful Private Practice, Tips for Getting Your Fees Accepted, an Invitation to Integrity Day, plus more!


---


Still can't decide what to get?
Check out the beautiful gift baskets in the right-hand column...
Or click below and give your favorite music, available through Amazon.com:
Need More Ideas?
Search Amazon!